Upcoming Video Games of 2018
If you want to know the release dates for the best new games 2018 and beyond has in store, then this is the place to be. We've gathered all of the release date information about upcoming video games and DLC on PS4, Xbox One, PC, and Switch in this handy reference list, so you don't have to look anywhere else for it. Want to race around Britain in Forza Horizon 4? Or Spartan kick your way across Greece in Assassin's Creed Odyssey? Well they're both out this week, so it's time to get started. No matter what games you've got on your radar, you'll find them listed here along with their release formats and the exact date you can grab them from your store of choice.
Video game release dates are always subject to change and new ones are announced on a regular basis, so bookmark this page and check back often for the most up to date information on the release schedule. Any updated dates or new additions to the listings here will be highlighted in bold. Please note that games will remain in the TBC section at the bottom of the page until they have a confirmed release date.
October 2018 video game releases
Fist of the North Star: Lost Paradise [PS4] – October 2
Forza Horizon 4 [PC, XBO] – October 2
Mega Man 11 [PC, PS4, XBO, Switch] – October 2
Achtung! Cthulhu Tactics [PC] – October 4
Assassin's Creed Odyssey [PC, PS4, XBO] – October 5
Super Mario Party [Switch] – October 5
Disgaea 1 Complete (US) [PS4, Switch] – October 9
My Memory of Us [PC, PS4, XBO] – October 9
Stranded Deep [PS4, XBO] – October 9
WWE 2K19 [PC, PS4, XBO] – October 9
Kursk [PC] – October 11
Call of Duty: Black Ops 4 [PC, PS4, XBO] – October 12
Disgaea 1 Complete (EU) [PS4, Switch] – October 12
For Honor: Marching Fire DLC [PC, PS4, XBO] – October 16
Lego DC Super-Villains (US) [PC, PS4, XBO, Switch] – October 16
NBA 2K Playgrounds 2 [PC, PS4, XBO, Switch] – October 16
Starlink: Battle for Atlas [PS4, XBO, Switch] – October 16
Valkyria Chronicles [Switch] – October 16
Warriors Orochi 4 (US) [PC, PS4, XBO, Switch] – October 16
Dark Souls: Remastered [Switch] – October 19
Lego DC Super-Villains (EU) [PC, PS4, XBO, Switch] – October 19
Soulcalibur 6 [PC, PS4, XBO] – October 19
Warriors Orochi 4 (EU) [PC, PS4, XBO, Switch] – October 19
Crayola Scoot [PC, PS4, XBO, Switch] – October 23
Just Dance 2019 [PS4, XBO, Switch, Wii U, X360, Wii] – October 23
My Hero One's Justice [PC, PS4, XBO, Switch] – October 26
Red Dead Redemption 2 [PS4, XBO] – October 26
Call of Cthulhu [PC, PS4, XBO] – October 30
Hasbro Game Night [Switch] – October 30
Risk [Switch] – October 30
Sports Party [Switch] – October 30
Steep: X Games Pass [PC, PS4, XBO] – October 30
Trivial Pursuit Live! [Switch] – October 30
Orphan [PC] – October 31
November 2018 video game releases
Diablo 3 Eternal Collection [Switch] – November 2
Lego Harry Potter: Collection [XBO, Switch] – November 2
Taiko no Tatsujin: Drum 'n' Fun! [Switch] – November 2
Taiko no Tatsujin: Drum Session! [PS4] – November 2
ARK: Survival Evolved: Extinction DLC [PC, PS4, XBO] – November 6
Carnival Games [PS4, XBO, Switch] – November 6
GRIP: Combat Racing [PC, PS4, XBO, Switch] – November 6
Overkill's The Walking Dead (US) [PC, PS4, XBO] – November 6
Telltale's The Walking Dead: The Final Season – Episode 3 "Broken Toys" [PC, PS4, XBO] – November 6
Overkill's The Walking Dead (EU) [PC, PS4, XBO] – November 8
11-11: Memories Retold [PC, PS4, XBO] – November 9
Hitman 2 [PC, PS4, XBO] – November 13
SNK 40th Anniversary Collection (US) [Switch] – November 13
Spyro Reignited Trilogy [PS4, XBO] – November 13
Fallout 76 [PC, PS4, XBO] – November 14
Civilization 6 [Switch] – November 16
Pokemon: Let's Go, Pikachu! / Eevee! [Switch] – November 16
SNK 40th Anniversary Collection (EU) [Switch] – November 16
Battlefield 5 [PC, PS4, XBO] – November 20
Farming Simulator 19 [PC, PS4, XBO] – November 20
Wreckfest [PS4, XBO] – November 20
Darksiders 3 [PC, PS4, XBO] – November 27
Ride 3 [PC, PS4, XBO] – November 30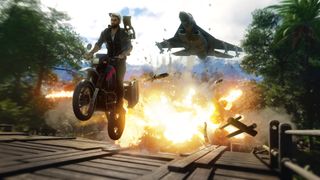 December 2018 video game releases
Just Cause 4 [PC, PS4, XBO] – December 4
Mutant Year Zero: Road to Eden [PC, PS4, XBO] – December 4
Override: Mech City Brawl [PC, PS4, XBO] – December 4
Jagged Alliance: Rage! [PC, PS4, XBO] – December 6
The Last Remnant Remastered [PS4] – December 6
Katamari Damacy Reroll [PC, Switch] – December 7
Super Smash Bros. Ultimate [Switch] – December 7
Insurgency: Sandstorm [PC] – December 12
Telltale's The Walking Dead: The Final Season – Episode 4 "Take Us Back" [PC, PS4, XBO] – December 18